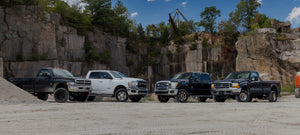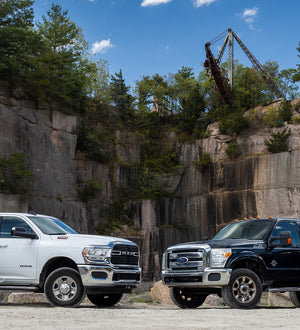 BEST VALUE. BEST RESULTS.
Revive, restore and maximize your vehicle's performance with an Archoil Diesel Performance Kit
THE ULTIMATE DIESEL KIT
The must-have kit for diesel owners. Restore and maximize your performance with this best-seller.
Upgrade your oil with AR9100 to protect your engine and increase power and response. Revive your fuel system with AR6400-D and boost performance at every fill-up with AR6500.
"My engine is noticeably quieter and a lot more responsive. It runs better now than it did in 2006 when I bought it!"
DIESEL FUEL SYSTEM KIT
Fully restore and maintain your vehicle's fuel system with this kit.
AR6400-D delivers a rapid deep clean to remove carbon build-up from injectors and key fuel system components. AR6500 boosts cetane, improves lubricity and keeps the fuel system clean to increase MPG and prevent premature failure.
"I had some turbo lag - gone. Engine had rough idle at times - gone. Fuel economy has increased between 1 and 1.5 MPG."
"As a former mechanic I never believed in additives but this is my 3rd purchase of this product and used on 3 different vehicles with great results. On my BMW X5 it made the idle smooth and the MPG up by 2. On my LML increased the regeneration interval from 300 to 600 miles."

AR6400-D Diesel Fuel System Cleaner
"The engine noise became noticeably quieter after about 20 to 30 miles. Before Archoil this truck was lucky to get 14 MPG on the highway. I drove back from New Mexico with a slight tailwind and AR6500. One leg I got 20 MPG!! This truck in 60,000 miles has NEVER gotten 20 MPG before!"

AR6500 Diesel Treatment
"I use it in all my diesel engines. I was amazed when I pulled the valve covers. It was showroom clean - no sludge, no blowby residue, nothing. Could easily read the serial numbers on the injectors. As far as stiction goes, I don't have any with my Power Stroke and it runs smooth and fires right up."

AR9100 Friction Modifier
Product is unbelievable fast shipping love this product
Sticktion relief
Have used this on my 2004 F250 for about 10 years. Great product that does lubricate and relieve sticktion in the injectors. Cold starts without plugging in are now possible. This in spite of having regular 5000 mile oil changes.
05 dodge 2500
I've seen improvements on mpg
Awesome product
I run this in my old power stroke diesel and recently in a newer Volkswagen TDI. All I can say is wow. Improvements almost immediately. More power. Better mpg to the tank. Engine starts so smooth.