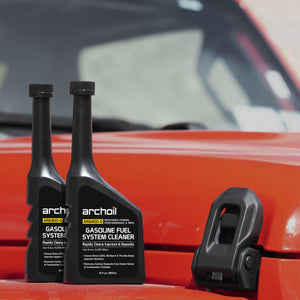 Even a brand new vehicle's performance will decline if not regularly treated with a fuel system and engine cleaner.
AR6400-G uses PEA detergents to quickly and safely remove gum, varnish and carbon from the fuel system and engine. AR6400-G will also clean carbon deposits from intake valves on manifold injected vehicles, and help to remove deposits from turbochargers and EGR valves.
Cleans Injectors
AR6400-G's detergents remove carbon build-up from injectors (pictured). Dirty injectors cause rough idling, misfires, poor fuel economy and black smoke due to incomplete combustion.
Modern GDI vehicles are especially vulnerable to carbon build-up issues as fuel is delivered directly into the combustion chamber. Use of AR6400-G removes heavy deposits and restores power and performance.
Most auto manufacturers recommend regular use of an injector cleaner for GDI systems.
Optimize Power & Fuel Efficiency
Manufacturers including BMW, GM, Honda, Toyota, Volkswagen, Mercedes-Benz and Audi recognize that the levels of detergents required by the EPA to be present in gasoline is not high enough to maintain optimal engine performance.
AR6400-G will remove deposits which have built up over time to restore lost power and fuel economy and maintain the fuel system.
AR6400-G is a highly concentrated fuel system cleaner designed to remove existing deposits from your fuel system and engine. AR6200 Fuel Treatment is added to every tank of fuel to boost performance, ensure fuel quality and protect the fuel system from wear, deposit formation and corrosion. We recommend using AR6200 at every fill-up between AR6400-G treatments.
Removing deposits which have built up over time will restore power and fuel economy which has been degraded by deposit formation. Using a fuel system cleaner regularly will maintain optimum fuel economy and power. AR6200 Fuel Treatment is a maintenance product and will help keep your fuel system clean in between treatments, but in order to remove heavy deposits the higher concentration of detergent offered by AR6400-G Gasoline Fuel System Cleaner is necessary.
Yes, you can use AR6200 at the same time as AR6400-G.
Archoil works
I've never been disappointed with these products. I used the gas treatment in a 2015 Ford Fusion Hybrid that doesn't get driven as often as it should. Power is good and no acceleration lag
Top of the line
My vehicle idles and runs smoothly now
It seems it helped
In my kia niro it didn't help at all. But my car is new.
But in my scooter (motorbike) it helped to remove jerking.
GREAT products
Archoil products are great. Mileage went up on the honda accord. Went from 520 per tank to 570. Car runs smoother too.